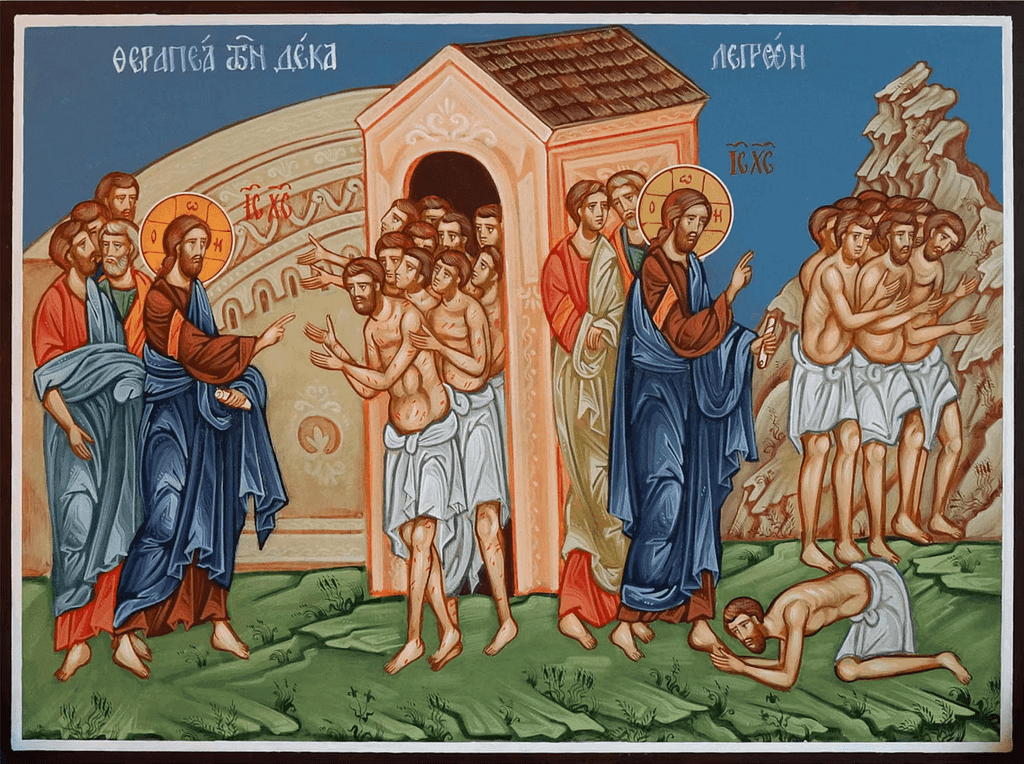 Holy Gospel: Luke 17:11–19
11 In those days, it happened while Jesus was journeying to Jerusalem that he was also passing through the midst of Samaria and Galilee. 12 And when he had entered into a certain village, ten leprous men met him, who stood from afar 13 and they raised their voice saying, "Jesus, Master, have mercy upon us." 14 And when he saw them, he said to them, "Go, show yourselves to the priests." And it happened while they were departing that they were cleansed. 15 Now one of them, seeing that he had been healed, returned with a great voice glorifying God, 16 and he fell on his face around the feet of Jesus, giving thanks to him. And he was a Samaritan. 17 Then responding, Jesus said, "Were there not ten who were cleansed? Where are the nine? 18 Was no one found returning to give glory to God except this foreigner?!" 19 Then Jesus said to him, "Rise. Go. Your faith has saved you."
Small Catechism for This Sunday – The Third Commandment
What is the Third Commandment?
Remember the Sabbath Day by keeping it holy.
What does this mean?
We should fear and love God so that we do not despise preaching and his Word, but hold it sacred, and glady hear and learn it.
"Remembrance"
In the name of the Father and of the ☩ Son and of the Holy Spirit. Amen.
Dearly beloved, grace and peace be multiplied to you from God our Father and the Lord Jesus Christ.
St. David writes in Psalm 103, "Bless the Lord, O my soul, and all that is within me, bless his holy name! Bless the Lord, O my soul, and forget not all his benefits, who forgives all your iniquity, who heals all your diseases, who redeems your life from the pit, who crowns you with steadfast love and mercy" (Psalm 103:1–4)
Dearly beloved, our Gospel text this morning is also assigned for Thanksgiving Day because we are reminded by the ingratitude of the nine men and the thankfulness of the Samaritan man of how much we ought to give thanks to God for all of his benefits. However, this text is nor merely about thanksgiving. It is about the nature of faith and remembrance. The nine forgot the Lord and left him in the rear-view mirror, but the Samaritan recognized his Lord and remembered to return to him. So we will talk about remembrance.
I. Remembering the Leprosy of Our Sin
The first thing that we must remember is why we came here in the first place. We did not come to offer God something that we might be repaid. We did not come to this place because we are good people who deserve to be in the presence of God. We did not come here to offer God our good works and other offerings we might have.
Rather, we came here because we need help. We came here because we are poor miserable sinners who live under the shadow of death. We came here because we suffer in this life because of our sins. And so we came here not appease God, but rather to beg for mercy. So we cry at the beginning of every service: "Lord, have mercy upon us. Christ, have mercy upon us. Lord, have mercy upon us."1
As we heard just three weeks ago, we did not come here to pray like the Pharisee, "I thank you Lord that I am not like other men…" (Luke 18:11), but rather to pray like the tax collector, "God, be merciful to me, the sinner" (Luke 18:13).2 It is almost as if it was done on purpose that we hear these same words repeated by the lepers in our text, "Jesus, Master, have mercy on us" (Luke 17:13).
But why do we need to approach God in this way? Why do we pray in this way? It is because our sin creates distance between us and God, it separates us from God's presence. In this way, we ought to think of the leprous men as a picture of all sinful mankind, as a picture of all of us.3 These men were forced to live alone. They were not allowed to be with the rest of Israel. They had to live "outside the camp" (Leviticus 13:46). This means they couldn't even come into town, let alone come into the temple and be in God's presence.
So it is also with us. By virtue of our sin, we have fallen short of the glory of God and do not deserve to be in God's holy presence. Our sin creates a barrier, a veil, a wall between us and God. If we dare to come into his presence, we must be destroyed. Therefore, we must be like Adam and Eve, who were cast out from the garden of Eden (Genesis 3:23–24) as a result of our sin.
Perhaps you feel this way. Perhaps you feel distant from God at times. Perhaps you even feel like you are cut off or separated from God. Perhaps you feel so ashamed of your sin that you dare not even lift your eyes up to heaven. Perhaps you feel so unclean and unworthy that you must cry out to God from a distance. If so, you feel the effects of sin and you have come to the first rembrance, as we must all do.
All of us must remember the chasm that has been created between us and God and our sin. Even as we can feel the separation created in human relationships when one sins against another and the relationship is broken, so also we must realize that our sin also creates separation and enmity, or strife, between us and God so that we stand under his anger and wrath.
So we ought not take our sin lightly. We should not think of it as a small deal. If it were a small deal, God would not have kicked Adam and Eve out of Eden. If it were a small deal, God would not have felt the need to send His Son Jesus Christ into the flesh. Rather, we ought to remember that sin is so great that it brings death and wrath.
Then and only then can we properly remember the first reason why we are here: Our sin makes us far from God, separated from his kindness and goodness, and so we need mercy.
II. Remembering Our Salvation in Christ
However, St. Paul reminds us that "while we were still sinners" (Romans 5:8), that is, while we were "separated from Christ" and were "alienated" and "strangers" (Ephesians 2:12), "Christ died for us" (Romans 5:8). Therefore, we ought to remember the second reason why we are here: We "who once were far off have been brought near by the blood of Christ" (Ephesians 2:13).
We have come here to remember the salvation which is ours in Christ Jesus. Our cries for mercy do not fall upon deaf ears. God did not turn his face away from us and abandon us. Rather, he has heard our pleas for mercy (Psalm 28:6). And instead of leaving us far off, he himself has drawn near in the very body and blood of Christ.
For this reason, our Lord Jesus Christ assumed human flesh and was born of woman, born of the virgin Mary, that God might draw near to his fallen creation once again. He did not draw near to bring wrath as he ought to, but rather, in love, he drew near to bring an end to the hostility and separation that existed between us and God.
In other words, Christ came to be our mediator, to be our great high priest who stands between us and God, closing the gap, so that we might no longer fear his wrath and anger, but rather, being forgiven of our sins, that we might have a right to call him our Father and dwell in his house all the days of our life.
However, because God is just, our sin cannot merely be overlooked. God's holiness demands that our sin must be condemned and punished. To do otherwise, God would be unjust. And so God in his righteousness also gave this Son not just to be our high priest, but as we shall sing in a moment, he also came to be our sacrifice.4 He came to pay the price for our sin, to take God's wrath, so that we would no longer fear God and look at him with fear from afar.
So dearly beloved, if you feel distant from God, if you feel separated from God, if you are ashamed of your sin, if you are afraid of God, if you feel unclean or unworthy, then know that all of this has come to an end in Christ Jesus. For it is in his very flesh, in the wounds of his body, that your sins are paid for. It is finished.
So now you have been washed clean by the waters of Holy Baptism. You may have gone into the font thoroughly infected with the leprosy of your sin, but now you are covered with the righteousness of Christ. So also, when you fall into sin and come back to this place repentant and crying for mercy, you are also met quickly with Christ's absolution, "Your sins are forgiven." You are welcome back in God's house.
So we here remember that we are sinners, yet we also remember that God forgives our sins for the sake of Christ, who bore them on the cross for us.
III. Remembering Christ in the Lord's Supper
Yet, there is another remembrance of which we must speak. The final reason we have come here today is to remember Christ in the Supper, and this is a special remembrance which encapsulates the other two, for here we remember both our sin and the Lord Christ in the Supper.
When our Lord Jesus Christ instituted the Lord's Supper, he commanded his disciples, "Do this in remembrance (αναμνήσις) of me" (Luke 22:19; 1 Corinthians 11:23–26). With these words, our Lord both invited and commanded us that we should make remembrance of his death on the cross and that we should turn in repentance and recognize our need for his forgiveness.
Luther writes in the Large Catechism concerning this command of Christ:
However, all that being said, we would be mistaken if we turn this "remembrance" simply into a command or if we regarded it simply as a memorial meal, like we might have on any other holiday such as down at the American Legion on Veterans' Day or Memorial Day. It is far more than that.6
For although this remembrance in the Lord's Supper is a command, we should also understand that it is also our Lord's gracious invitation to participate in his eternal salvation. Here, although we are presenting ourselves to the Lord in gratitude and thanksgiving for what he has done, there is more than just thanksgiving, it is also participation in the life of Christ, for here, he gives us "forgiveness of sins, life, and salvation."7
So also, we are not just remembering a long distant event which happened some nearly two-thousand years ago. We are not merely reminiscing or honoring the death of our Lord Jesus Christ, although that is part of this Sacrament too. Instead, we are taking part of the eternal feast of our Lord Jesus Christ, the very Lamb of God "slaughtered before the foundation of the world" (Revelation 13:8), who is now risen from the dead, lives, and reigns to all eternity.
Therefore, when we come and kneel before this altar, we ought to understand that we are returning to Christ himself, not just as he was on the cross, but very much alive and risen from the dead, even as the repentant Samaritan fell on his face around the feet of Christ (17:16). And when we return to this altar, we do not return to him merely in spirit, but rather we find him present on the altar and behind the rail, giving us his very body and blood to strengthen us in that salvation that we have received by faith.
Here, in this Supper, Christ brings back to our minds that salvation which we so easily neglect and forget by giving us his true body and true blood. He does this because our faith is weak in this life and we often fall into a kind of false security or despair as we journey through this life. And so he means for this Sacrament to serve as an antidote for us Christians when our faith becomes sick and ill, lest we forget our need for him or doubt his love for us.8
So today we ought to consider the words of the Psalmist anew in the light of Christ and say, "Bless Jesus Christ, O my soul, and all that is within me, bless his holy name! Bless Jesus Christ, O my soul, and remember all his deeds, how he has forgiven you all your sins, how he has born all your diseases, how he has redeemed your life from the pit of hell, and how he has crowned you with everlasting love and mercy." (~ Psalm 103:1–4)
Conclusion
So dearly beloved remember why you are here. Remember your sin. Remember the salvation you have in Christ. And most important, remember that here your High Priest Jesus is among you as one who serves you with his very body and blood (Luke 22:27) in this Supper, as one who remembers you and is present in your dearest need.
In the name of ☩ Jesus. Amen.
---
Sermon Notes:
The words of the Kyrie from Divine Service Setting Three, Lutheran Service Book: Pew Edition, pg. 186. ↩︎
The Parable of the Pharisee and the Tax Collector (Luke 18:9–14) is the assigned Gospel text for the Eleventh Sunday after Trinity. ↩︎
"God had commanded lepers to live alone and to isolate themselves from associating with other people. But when Christ came, behold, the lepers broke through and were no longer deterred by this prohibition. So also, once the Law brings us to recognize our unworthiness, we break through to Christ. These lepers stood at some distance out of true humility and dared only plead for mercy. We must also regard ourselves as totally unworthy of Christ's help and reocgnize that by sin we are distanct and far from God." Johann Gerhard, Postilla, Vol. 2, pg. 152. ↩︎
"The holy Lamb undaunted came to God's own altar lit with flame; while weeping angels hid their eyes, this Priest became a sacrifice." Lutheran Service Book # 624, stz. 3. (Recording here.) ↩︎
Concordia: The Lutheran Confessions, pg. 436. ↩︎
"The remembrance that occurs in the Holy Supper is different in kind from the memorial of the fallen which takes place on U.S. Veterans' Day and the Canadian Remembrance Day. On these civic occasions upright citizens struggle to bring to mind the fading memory of the mainly unknown combatants of former generations whose sacrifice secured the liberties we take for granted. The remembrance discharged in the two-minute silence observed before Canadian cenotaphs in chilly mid-November is an imperfect and fragmentary human work. Conversely, the remembrance (ανάμνησις) mandated by the Lord as He gave Himself into sacrtifical death is the Holy Spirit's work of proclaiming to Christendom the abindingly valid sacrifice of the God-man now enthroned at the Father's right hand (John 16:14)." John Stephenson, The Lord's Supper, pg. 190. ↩︎
Concordia: The Lutheran Confessions, pg. 343. ↩︎
"In the seventh place, Christ says: "This do in remembrance of Me." And the word "remembrance" (ανάμνησις) means that when things begin to slip from our mind because of forgetfulness or neglect they are brought back to memory (Mark 14:9; 2 Timothy 1:3). And just as the loss of faith si called forgetfulness (2 Peter 1:9), so a true remembrance is an arousing, a preserving, and an argumenting of living and growing faith. Moreover, each of us experiences hwo manifold is the infirmity of our faith, how weak its exertions, how often it is almost buried in false security, indifference, and forgetfulness, how easily it is overgrown with the thorns of this life and wallows in the billows of temptation. Therefore Christ, our true Samaritan, in addition to the ministration of and mediation of the Word, has also instituted against this dangerous forgetfulness this most efficacious antidote, namely, the Communion of His very body and blood in the Supper. For because Christ lays hold on us more strongly that our faith lays hold on Him (Philippians 3:12), therefore by our taking hold of His life-giving flesh he has willed to train us, to nourish, preserve, increase, and confirm us in a true and living recollection of the fact that for our salvation He has assumed our nature, has given this assumed nature into death for us, and again distributes and offers it to us to eat in the Supper, in such a way that it may be joined and attached to our poor nature as intimately as possible." Martin Chemnitz, The Lord's Supper, pgs. 192–93. ↩︎